Say goodbye to crispy edged leaves and hello to healthy, huge and glossy leaves with the best humidifier models listed in our care guide.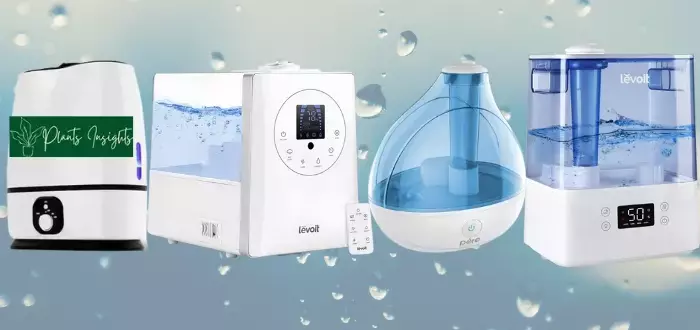 We all adore having flourishing houseplants in our homes. However, most popular houseplants are tropical plants native to rainforests and they love growing in their natural warm and humid climate. If lack of humidity is causing deterioration in your plants' health, having a humidifier is the most simple and effective solution. The best humidifier for plants is the unit able to take care of our plants' humidity requirements all around the year, and we will help you find the humidifier well suiting your demands.
The selection of an appropriate humidifier meeting requirements of our plants is a decision of prime importance. Selection criteria depend on several important factors like plants' humidity requirement, room size, type of humidifier, run time, water, and filtration requirements. We have tested the best humidifiers for plants from performance, maintenance, and functional perspectives.
---
Top Recommendation of Humidifier for Plants
---
Please refer to our quick selection table to choose the humidifier for house plants to provide optimum mist to plants. We have also reviewed these outstanding products in detail to reach an informed and correct decision. If you are interested in knowing more about humidifiers refer to our humidifiers guide.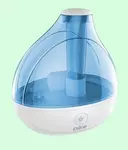 Best for Small Spaces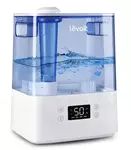 Best for Smart Homes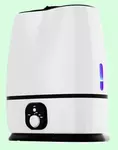 Best for Grow Rooms
Best for Warm Mist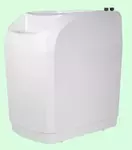 Best for Whole House
---
7 Best Plant Humidifiers 2022
---
As experienced users, we have given special consideration to the units' durability, running cost, and operational parameters. Whether you are looking for the best plants humidifier to place in your bedroom, a small patio, or a large living room, we have reviewed all ranges to help you make the correct selection.
Levoit – Best Plant Humidifier for Smart Homes
This cool mist humidifier is an award-winning humidifier from Levoit and the best choice for any smart home. In addition to being smart, this ultrasonic humidifier comes with six liters Tank capacity, capable of covering a 500 Sq. ft area for the runtime of up to 60hrs.
We were amazed to see how seamlessly this smart humidifier can be paired with Alexa and controlled by an app. The unit has an inbuilt humidistat and displays the current humidity level. Moreover, the humidity level can also be seen in the app. Considering you went to the office and forgot to turn on the unit, no problem, you can tap the equipment on from your smartphone.
The unit is super quiet and has water filling from the top, making it easier to fill. Furthermore, Levoit smart humidifier has an auto mode and built-in sensors to adjust optimum room humidity as per plants' requirements. Distilled water is recommended for use in this unit.
Levoit Smart cool mist humidifier is the Number One choice for you if you are looking for a smart and intelligent humidifier that can take care of your plants' humidification needs on its own.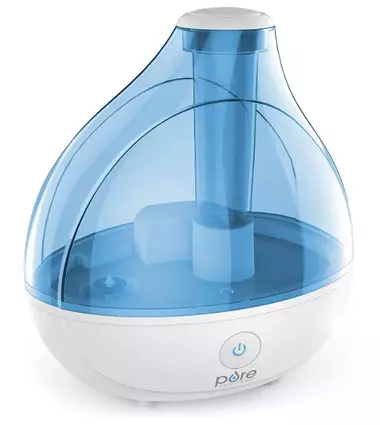 Enrichment Mist Aire is a cool mist plant humidifier based on ultrasonic technology and is the best model available in its category. Unit is known for its whisper quiet operation. Additionally, humidifier comes with a 360-degree nozzle for directing and dispersing the mist where it is required the most.
This humidifier comes with 02 high and low mist settings for humidity levels and does not require a filter for its operation. We observed during the test; the equipment is simple in design, easy to disassemble, and clean. The water tank can take water up to 1.5liter. A unit with a full water level and high mist setting can have an uninterrupted run for 16hrs. It also employees an automatic stop configuration in case of low water levels.
Distilled water shall be preferred for use in this humidifier. Tap water shall not be used, as it will result in the formation of white dust in the room due to the presence of minerals in tap water. Water from your home water filter will better result than tap water if you intend to save on distilled water.
Enrichment Mist Aire is the best humidifier for house plants placed in small spaces, and you cannot go wrong with the equipment as it comes with a five years warranty.
LEVOIT – Best Warm Mist Humidifier
Levoit Warm and Cool Mist Humidifier is an excellent ultrasonic humidifier that has an option to produce cool as well as warm mist. Although plants are not affected by the temperature of moisture, this added feature has numerous benefits from other perspectives. This unit from Levoit comes with a tank capacity of 6liter and is best suitable for areas up to 750 Sq. fT. It has quite a long last time of 60hrs.
Levoit Warm and Cool Mist Humidifier is a modern-day humidifier with a built-in humidistat to provide you with indoor humidity reading. It also comes with remote control for convenience and comfort. This model is equipped with auto mode operation. Auto mode operation enables the unit to adjust the mist output as per your ideal humidity requirement. Equipment is tranquil in process, does not require a filter, and uses distilled water.
This Levoit model is a modern-day humidifier with a built-in humidistat and display to provide you with indoor humidity reading. It also comes with remote control for convenience and comfort.
This model is equipped with auto mode operation. Auto mode operation enables the unit to adjust the mist output as per your ideal humidity requirement. We noticed during our run test of the unit that equipment is extremely tranquil in process. It does not require a filter, and uses distilled water.
Levoit Warm and Cool Mist Humidifier is a must-buy for you if you want better control over your plants' environment, convenience, and ease of use. Levoit is also offering two years replacement warranty for the unit.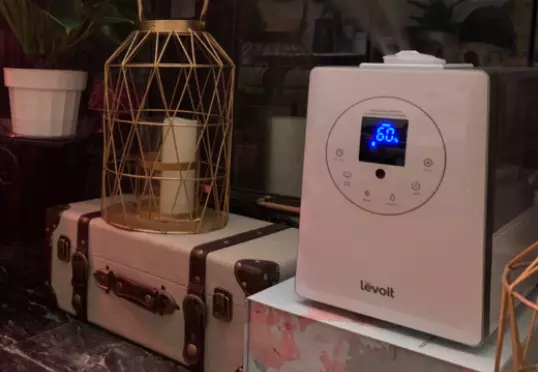 AquaOasis – Best Humidifier for Indoor Plant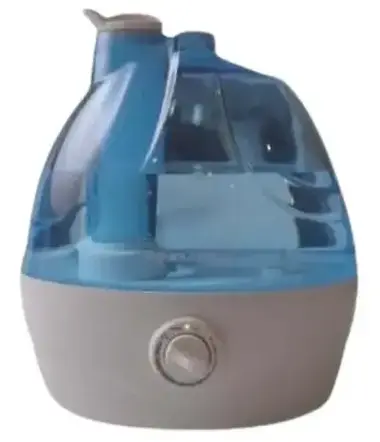 AquaOasis cool mist humidifier is an outstanding option for small to medium spaces. One of the best things about this model is the number of settings available so that you can fine tune the humidity level in the room according to the need of your plants. Our team found mist distribution for this plant humidifier very effective because of its 360-degree rotating nozzle.
Aqua Oasis cool mist humidifier for plants is an ultra-quiet model and does not make any obtrusive sound. The humidifier requires distilled water, does not require a filter, and has an automatic shut-off feature. The packaging also comes with a cleaning brush.
This unit has a total capacity of 2.2litres and can maintain optimum humidity levels in an area up to 400 Sq. ft. Equipment is very compact, but capacity is large enough to last for 24hrs on a low setting, thus making it a great choice if you have a space issue.
AquaOasis is your humidifier for indoor plants like Calathea and Maranta if you are looking for a trouble-free and compact yet effective plant humidifier. Last but not least, equipment is covered with a lifetime warranty from the manufacturer.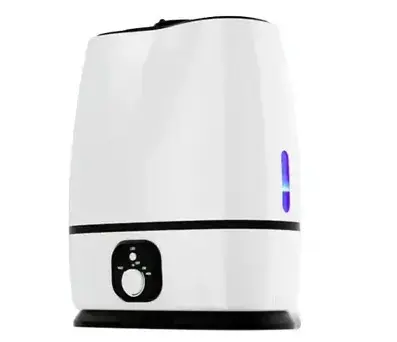 Everlasting Comfort cool mist is a consistent quality humidifier for plants that provides extended coverage for humidity. This unit has a tank capacity of 6 liters (01 gallons) and we recommended it for coverage area up to 500 Sq. ft.
It can run for a couple of days without the requirement of refilling if used at a low setting. Water filling will be required in less than 24hr if you operate the unit at a high mist setting; however, the unit is equipped with auto shut off in case of low water level.
This humidifier has an optional night light and a dual mist distribution nozzle. In our experience the two distribution nozzles are very helpful in better dispersing of mist.
Like other ultrasonic humidifiers, this unit is also filter less, and the manufacturer recommends distilled water to avoid scale and dust buildup. The use of filtered water has also resulted in scale formation within the unit.
Everlasting Comfort Humidifier is the best option for plants placed in large or connected rooms. This unit is covered with two years replacement warranty.
Vornado Evap40 – Good Evaporative Humidifier for Plants
Vornado has designed this exceptional evaporative humidifier to cater to plants' humidity needs in large spaces. This humidifier can hold water up to 4 gallons and optimize humidity levels for an area up to 1000 sft.
As it is an evaporative humidifier, this equipment uses a wick filter and fan for producing mist. The fan is also beneficial in better air circulation to provide uniform humidification in an area up to 1,000 Sq. ft. Another advantage of an evaporative humidifier is that you can use tap water instead of distilled water, which is an exceptional benefit as it reduces the operational cost for large plant humidifiers.
Evap40 Humidifier has an inbuilt sensor that senses the humidity level in the room and turns off the unit based on the input humidity setting. This unit comes with 03 fan settings and humidity level settings. During the testing, we observed unit noise level is high when operated at high speed, whereas noise level is acceptable when run at low speed.
Vornado Evap40 Humidifier is the best option for large areas and is preferred because of its ease of maintainability and low operating cost.
AIRCARE Space-Saver Evaporative Humidifier is the best and most practical solution to cater to the humidity needs of plants all around in your house. This humidifier has a massive tank of 6 gallons, meets the humidity requirements for an area around 2300 Sq. ft, and gives a long run time of up to 70 hrs.
Irrespective of the tank capacity, this unit does not take much space. Handling and using this humidifier is very convenient. Equipment has wheels, and you can seamlessly move to any room depending upon the requirement.
Water filling is straightforward in this humidifier, and tap water can be directly poured into the unit. It has simple control buttons and has a display warning when the water level is low. Filter life is exceptional and will not require replacement in months. The unit also contains an auto shut down feature when a needed humidity level is attained.
In our experience, AIRCARE Space–Saver Evaporative Humidifier is a top-of-the-line choice if you are looking for a solution for the complete house. It may seem pricey than other units; however, it's a steal if you consider less operating cost due to the use of tap water and area coverage. Unit is sold with two years limited warranty.
---
Factors for Selecting Best Plant Humidifier
---
1.Area Coverage
This factor is the prime consideration when selecting a humidifier for your plants. The humidifier shall be of the appropriate sizing to cater to the room sizes where you will place the unit. If you select a smaller capacity unit than your room size, plants will not get the desired humidity levels. On the contrary, if you choose a humidifier that is way larger than the required capacity, it will add too much moisture to your home environment.
Always choose a humidifier according to the size of the area you want to maintain the humidity levels. I would recommend going around 20% higher capacity unit.
2. Reservoir Size & Run Time
Water tank capacity and Run Time are two important factors while deciding on the humidifier. Both of these factors go hand in hand with each other. Although all modern-day humidifiers come with an auto unit shut-off option in case of low water level, we recommend units with higher run times to avoid repeated checking and topping up water in the unit.
As far as the Plant humidifier is concerned, you do not require it to run 24hrs especially at night, so a unit having tank capacity with a run time of 24hrs or more will be sufficient. You can top up the water once a day and are ready to go. However, we have listed units in our review that can last much longer with full tank capacity.
3. Humidity Levels
Most humidifiers come with at least two set points for mist output control. Please ensure that you get the model to control the output as per your plants' demand.
4. Rotating Nozzle
Ensure you have the unit to direct the mist with a 360-degree rotating nozzle, where you require more output. Moreover, if you use a humidifier in tighter spaces, you can direct mist away from the walls to avoid mold formation.
5. Mist Temperature
Mist temperature does not affect plants' health, so it does not matter which humidifier you choose from a plants health perspective.
However, if you are planning to use humidifiers mostly in winter, warm mist humidifiers can help in increasing room temperature.
6. Maintainability and Ease of Use:
Whatever humidifier you will purchase will require filling up of water and time to time cleaning. Choose the model which is easy to top up; usually, humidifiers with filling from the top are the simplest. Unit shall be easy to dismantle for cleaning, and the tank should be accessible for thorough cleaning. Accessibility for cleaning is essential because you do not want pathogens and bacteria to grow in your humidifier.
7. Humidity Level Display
An added feature that comes in modern-day units displays the current humidity level in the room. Humidity reading on the humidifier can be of great assistance as you can readily see the room's current humidity level. It can help find the right balance when you are running the unit.
---
Types of Humidifier for Plants
---
Three types of humidifiers are commonly used based on the process technology used to turn water into vapors.
1. Ultrasonic Humidifiers:
Most of the compact humidifiers available on the market these days are of Ultrasonic type. These are the most modern humidifiers used to produce a warm or cool mist. In these humidifiers, a metal diaphragm is vibrated at ultra-high frequencies. Due to high vibrations, tiny water molecules are pushed into the air, thus forming the mist.
Ultrasonic humidifiers are very quiet in operation. These humidifiers do not use any filter; therefore, the mist formed contains all the impurities present in water. Distilled water is recommended for use in ultrasonic humidifiers. Operating cost of large ultrasonic humidifiers will be high due to daily use of distilled water. Additionally, cleaning of the water reservoir is also recommended from time to time to avoid pathogen growth in the water tank.
2. Evaporative Humidifiers:
Evaporative humidifiers are among the most common types found in humidifiers for larger spaces. They are also known as Wick humidifiers as a wet wick or filter is used in these humidifiers.
An Evaporative humidifier consists of three main components, a water storage tank, a wicking filter, and a fan. The wicking filter draws up the water from the tank, and this water is propelled out by using a fan forming the cool mist.
The advantage of using an Evaporative humidifier is that it uses a filter that removes impurities from the water. The fan helps better dispersion the mist, and operating cost is low due to the use of tap water. Evaporative humidifiers can cover large areas; however, their operation can be noisy because of the fan. The filter shall be regularly cleaned or replaced as per manufacturer instructions.
3. Hot Mist Humidifiers:
These are the traditional humidifiers that produce steam by heating the water, and then steam is released into the environment after slight cooling. This humidifier is not used nowadays because of the high cost of energy consumed to produce steam.
Hot mist humidifiers can also benefit from increasing room temperature in winter; however, they can also pose the danger of accidental burn if you have small children.
---
How to Clean the Humidifier?
---
Routine cleaning of humidifiers is essential from your health and humidifier life perspective. No one would like to have pathogens and bacteria growth in the humidifier's water tank. Furthermore, if you are not using distilled water, the hard scale will form in the humidifier, and the humidifier's performance will be degraded over time.
Therefore it is necessary to clean the humidifier once a week thoroughly. Please follow the manufacturer's guidelines for cleaning. If the manufacturer's recommendations are not available to you, please follow the following simple steps for cleaning and disinfecting.
Turn off the humidifier and unplug from the power source.
Remove the water tank from the unit and empty it.
Empty the water reservoir also.
Rinse the water tank thoroughly with water.
Fill the water tank with warm water and add two tablespoons of white vinegar.
Leave it for 30 minutes.
Meanwhile, take a microfiber cloth and wipe all accessible areas, including vents.
If your humidifier is installed with a filter, check if the filter is of washable type.
Install back the filter after thorough rinsing and draining.
Remove the vinegar solution from the water tank and rinse the water tank.
Fill the water tank with water and install it back.
Cleaning and disinfecting are complete, and your humidifier is ready to take care of your plants again.
---
What is Humidity?
---
Humidity is defined as the quantity of water vapors present in the air. The capability of water vapors held in the air directly relates to temperature. Warm air can hold more water as compared to cold air.
The relative humidity is the amount of water in the air in relation to the maximum water content that the same amount of air volume can hold at a specific temperature. We represent relative humidity in terms of percentage. Moreover, Relative humidity is the humidity we typically refer to in our everyday lives.
Absolute humidity is the total amount of water vapors in a cubic meter of air. We usually do not refer to the absolute humidity term.
---
Why do Plants Require Humidity?
---
Humidity is a very important factor in the process of photosynthesis. Plants have tiny pores on their leaves, mainly the back side or the underside of leaves, called stomata. These stomata open and close throughout the day, allowing for gas exchange, so when they're open, they will take in carbon dioxide and release oxygen and water Vapors. This is an important process in photosynthesis.
When you have conditions that are not ideal, if it's too hot or too dry, the plant will close those stomata, preventing any vapor or water loss, but ultimately, this also slows the process of photosynthesis because the plant can no longer take up the carbon dioxide used in that process, that's why you need humidity to keep the stomata open to continue that gas exchange and photosynthesis process in order to make your plant continue to grow and Thrive.
Like all living organisms, plants adapt to their natural environment. Most of the fabulous houseplants like we see around us are from warm tropical areas. Air in these areas is humid all around the year. These plants have developed leave and root systems according to environment and require optimum humidity level for growth. Having less humidity will cause more evaporation of water through leaves. If the leaves of your plants are feeling dry and crispy, this is the first sign that your plants need a moister environment around them.
Additionally, some plants like Epiphytes( Philodendron Splendid, Philodendron Verrucosum) fulfill their water requirement by absorbing the water present in the air through their leaves. Of course, the high water content in the air (high humidity) will help such plants to thrive and flourish.
Optimum humidity is vital for vegetation performed in grow boxes or grow tents. Adequate humidity is of prime importance, excessive humidity will result in formation of mold and mildew problems, whereas low humidity will result in stunted growth. Therefore selection of humidifier appropriate for your grow box or grow tent is a vital decision.
---
DIY Humidity Increasing Projects
---
There are numbers of ways you can adapt to help in increasing the humidity for your plants. However, you will probably decide to buy a Humidifier to cater to your plants' needs after experiencing the effort and results of these methods.
1. Make Some Pebble Trays:
Pebble trays are an easy way to provide a humid environment around the plant without making the roots waterlogged. You will require a simple drip tray that should be around two times the pot size. Place some pebbles in the tray and fill water in the tray. The water level shall be lower than pebble height. Place the pot on pebbles and make sure the bottom of the pot is higher than the water level. Otherwise, soil can absorb water making the roots waterlogged.
Water will evaporate over time and provide a humid environment around your plant. Make sure to have a tray of ample depth so that all of the water does not evaporate quickly.
2. Group Your Plants Together:
Placing the plants together looks aesthetically lovely and tends to keep moisture trapped within the huddle. This is because plant leaves have tiny pores called stomata, and water evaporates through these pores. This evaporation process, called transpiration, increases the humidity level around the plant. Keeping the plants together in a huddle will increase the transpiration process, thus notably increasing the humidity.
3. Mist the Leaves:
It looks like an easy method to provide your plants with the required moisture, however, overdoing will not benefit the plants. Misting the leaves will increase the humidity level for a small duration and need to be repeated. Water may stay on leaves for a longer time, and excessive misting can cause fungal growth and bacteria development.
I would not recommend missing the leaves as a preferable method for increasing the humidity levels.
4. Use Plastic Over the Plants :
The use of plastic does not seem attractive but is an effective method. Covering your plant with clear plastic will keep the moisture captured around the plant. Use wooden stakes to keep plastic above the foliage.
Moreover, ensure there is no excessive condensation. Open the plant from time to time if you see condensate droplets on the sides of the plastic bag. Please make sure to place the plant away from direct sunlight. Otherwise, the temperature around the plant will spike, causing leaves to burn.
---
Final Verdict:
---
We have reviewed a variety of products available in the market. All models are of top-notch quality and the best available in the market, and you can select any of those meeting your requirements. Hopefully, we have made it simple to find one that will work for you, and you can get yourself one and keep your plants happy with this great gift.
Recommendations from our heart;
---
Frequently Asked Questions
---
If you plan to use a humidifier for your plants, below are some of the common queries concerning the use of humidifiers. We have listed answers to these common questions for your better understanding.