Growing their herbs and vegetables evoke sense of achievement and satisfaction to all gardeners. You must have considered indoor gardening if you live in a cold climate or have an apartment without a grow space. However, working indoors in the soil can be very untidy, produce undesired odors and compromise the décor. It is where the magic of Grow Box starts. The best grow box for beginners offers a hassle-free and pleasing gardening experience, resulting in faster growth rates and higher yields.
The best grow box for beginners shall be super easy to set up and operate, requiring minimum intervention and fulfilling your preferences of stealth and décor. We have tested and reviewed top-of-the-line models available in the market and will provide you here the insight to select the product exceeding your expectations.
Top 3 Picks:
Best Grow Box for Beginners 2022
---
We have reviewed after testing these outstanding products in detail to reach an informed and correct decision. Please jump to our buying guide if you intend to have further information before going through the reviews.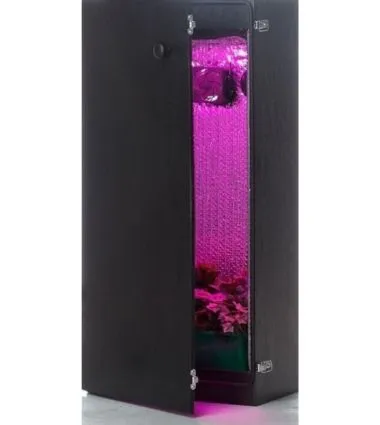 The perfect box for your next hydroponic garden. This best-of-the lot, carbon-protected grow box is equipped with a system that prevents emissions and keeps plants healthy. Dealzer's Cash Crop 7.0 has a very sleek and modern look. It complements any decor in-home or garden and looks like a piece of furniture.
The Cash Crop 7.0 is approximately 53 inches tall, 27 inches wide, and 21 inches deep from front to back, which means the unit is compact but still has ample grow space to kickstart your vegetation journey. The grow box comes fully equipped with a 170 watt LED light fixture housing.
We were impressed by the unit's light sealing and odorless performance features during the test. The hydroponic system's 1.5-gallon water reservoir means that you do not have to take care of water daily. Cash Crop is small enough for most people to handle themselves in tight spaces such as apartments. If you are into growing cannabis, the kit has just the right amount of space for six plants, and it also supplies nutrients to make sure your herbs thrive.
The unit comes equipped with the highest quality soil air pump. The air pump is designed with an air stone to increase gas exchange within the soil, meaning your plants will receive an abundance of oxygen. This process also helps prevent disease by creating a clean growing environment for your plants.
The Cash Crop 7.0 has one of the most advanced, fully automated nutrient delivery systems on the market. The grow box is automated to the point that all you have to do every week is five minutes of work. It means that you can leave your garden unattended for days at a time, and your plants will still have access to fresh water and nutrients.
The unit is made of specially treated, high-quality wood and hand-painted. Furthermore, the lock system ensures that you will have total control over your yield. Additionally unit keeps plants healthy by preventing light from escaping through reflective Mylar sheets, which also helps conserve energy.
Cash Crop 7.0 is the best entry-level grow box for beginners, which comes with everything you need to start growing from zero. It also contains beginner-friendly instructions for newbies on how to get started.
SuperCloset is renowned for manufacturing the most highly awarded grow systems in the industry. Super box from Super Closet is a powerful yet compact grow system that completes everything you need to start growing today.
The stealth design of this grow box is about the same size as your average mini refrigerator, with a height of 30", 24" deep, and 18" width. The heavy-duty solid steel construction with a lock mechanism keeps the crop safe from unwanted attention. Although the Super box seems compact but has enough grow space inside for your garden.
Unit comes with Flower Bar LED Lights with an optimized reflector to provide total exposure to the plants. Super Box contains a carbon filtration system to ensure pesky aromas do not escape to your home environment. The carbon filter and fan system help maintain the temperature of the grow environment, removing hot air from the main chamber.
The grow box comes with two options of the growing method. The soil option is having 06 soil buckets of 01 gallons. However, we prefer to use the patented, highly efficient superponic grow system that gives around five times the yield of the soil growth system.
The unit has several innovative features, and you can control the grow light timer and watering schedule from the tap of your smartphone. It also has an inbuilt hydrometer and thermometer to ensure the perfect environment for plants growth. Grow box also has a camera to monitor the growth remotely. The grow system can be left unattended for up to one week.
Super Box comes with 03 years warranty. Considering the intelligent features, lifetime customer support, and accessible learning video series subscription, we highly recommend this unit for anyone new to grow box grow systems.
If you're looking for quality grow box to start your garden, look no further than Grandma's Secret Garden 6.0. This revolutionary product comes with fully optimized features that provide optimal growing conditions in any room or space. It is perfect for beginners interested in becoming avid gardeners like myself.
Grandma's secret garden has LED Grow Lights providing full-spectrum lighting, ideal for any home hydroponic setup. The 36x20x16 inch box has ample space inside with enough room left over even after planting four large plants. The Grow Box is a high-quality product made from quality-tested and treated wood by hand in the USA.
The grow box is an outclass indoor gardening console that permits you to grow herbs and vegetables without soil. An elegant hydroponics system is part of the supply that speeds up plant growth rate for all your vegetables, fruits, or flowers needs.
The comprehensive package includes exhaust systems, air pump, air stones, submersible water pump with hydroponic 2-inch net pots, and an advanced nutrient system. You'll also get a timer that allows you control over your plants' environment so they can be grown sustainably year-round in any climate.
The unit's exhaust fan is specifically designed to keep the environment fresh no matter what type of crop we're growing. As a lifetime warranty and technical support back the unit – there are zero risks in giving this creative solution a try.
The Grow Box promises to be your best friend as a beginner. It has everything required for your crop growth, and its quality makes sure that it will never let go. As one of the leading providers in customer service, Dealzer offers unlimited phone and email tech support seven days a week.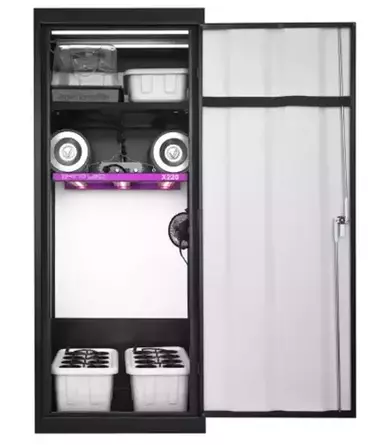 Superstar is another fantastic product from the Super Closet team. Grow box is a full-cycle system which means it is designed to take care from seed to complete harvest of the plants.
Grow box is of solid construction made out of the eighteen-gauge steel sheet and comes with a lock for security purposes. The height of Grow cabinet is 60 inches and is 24 inches wide and deep. We were easily able to arrange the place for the cabinet as it is compact and looks stylish along with other modern interiors.
Superstar grow box has two chambers utterly separate from each other. The upper chamber includes a germination and cloner kit. Both kits come with accessories to boost the germination and cloning process. We find this two chamber feature very valuable as all phases have different light and temperature requirements fulfilled by sealing both chambers from each other. Both sections are connected thru channeling to establish airflow thru both chambers.
The upper chamber has the latest LED lights with reflective sheets, whereas the lower section contains fluorescent light. A dual activated carbon filter is provided in the lower compartment to make this unit completely odorless. This indoor garden holds the 14 Site SuperCloner, which helps you achieve success by ensuring that your little babies grow up strong and healthy. It contains everything needed for germination, such as soil, water, and a Dome Seedling Tray, ensuring a perfect environment around the seedlings.
The Superstar is a highly rated growing system for indoor gardening. This unit is one of the best on today's market with its innovative features. Its lifetime customer support and 03 years warranty ensure you'll get every chance at success with this purchase.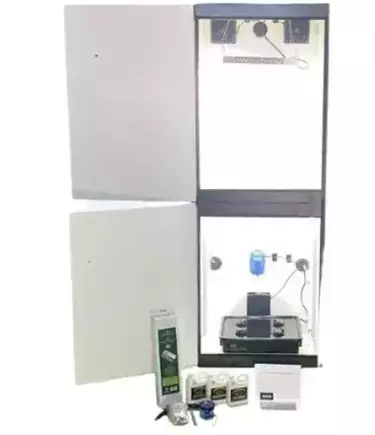 The Growzilla Grow box comes with an automated and top-notch hydroponic system perfect for beginners due to its simple functionality. It's easy to assemble and doesn't require any previous plant care or growing techniques.
If you're looking to maximize your yield, this device will make growing weed from seed simple. With one easy purchase and no complexity, it's now possible for anyone to grow plants indoors, thus making it the best grow box for beginners.
The grow box has a beautiful, hand-painted, high-quality wooden design that can double as an art piece for your office or bedroom. Growzilla is made in the USA with specially treated wood, making it extra durable.
The Growzilla is a four plant and single chamber vertical grow box so that your plants can grow tall with ease. The center black stripe on the front side helps keep this sturdy unit stable when in use. Grow box is 68 inches tall, 24 inches wide, and weighs 135 pounds. Considering the unit's weight, thick cautiously before finalizing the location of Grow box as moving around the cabinet will not be easy.
Grow box is supplied with multi-purpose air hoses, air pump, and air stones for optimum water oxygenation and essential nutrients to the plants. The state-of-the-art hydroponic system contains a water pump, water reservoir, and a cycle timer suitable for large plants.
Growzilla grow box is an award-winner cultivation product. This Grow box has full spectrum LED quantum board grow light, facilitating the crop's rapid growth and keeping the electricity bill under check. The outstanding grow box comes with 3 120mm intake and outtake fans provided with carbon filters making this unit odorless.
If you are new to closet gardening and are planning to harvest tall plants, Growzilla Growbox is your Number One choice. The unit is covered with a lifetime warranty except for the lights with a one-year warranty.
Armoire grow box The idea of growing your herbs at home is not as daunting, expensive, or messy using Armoire grow box. The Armoire Grow Box can be installed in any room without drawing much attention to itself, thanks to its sleek design that blends seamlessly into the environment – you won't even notice it's there.
Unlike large ugly tents used by many marijuana growers, this system grows 100% Organic Herbs effectively and seamlessly.
The Grow Box is a small, portable container perfect for apartments. It's made of lightweight mold and mildew-resistant material with an elegant wood veneer finish that blends beautifully in any home. Grow box size 25 inches wide, 25 inches deep, and 54 inches tall is designed to be sleek and super light.
Armoire's grow box is the perfect solution for those who want to cultivate their herbs. With this system, you can now successfully grow plants with minimal maintenance and maximum yields year-round. The unit provides your specific plant with the optimal lighting and growing conditions.
Armoire grow box is easy to use, simple to set up, and highly energy efficient. State of the art unit only uses about 150 watts of power. Its ultra-silent filtration system eliminates all smells and makes little to no noise.
Armoire grow box is based on the soil vegetation method. Grow box contains 12 Spectrum LED lights with timer, air circulating fans, and built-in temperature, humidity, and soil moisture meter.
Armoire is the perfect choice for those who want to grow their crops using the soil vegetation method. With its classic design and 90-day customer concierge service, you can be sure that your first experience will go smoothly.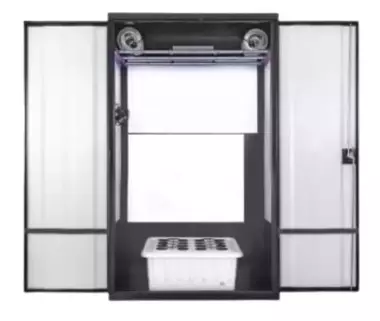 Supernova is one of the biggest grow cabinets out in the market to cater to the whole crop cycle. Grow box features a distinct cloning compartment along with a substantial flowering chamber. Supernova is renowned for its more significant yield, higher success rate, and better quality crops due to Superponic vegetation technology and the design behind this unit's manufacturing.
The unit is of full stealth appearance that can blend anywhere in the home. Grow box is of sturdy construction made of 18 gauge steel sheets and comes with a lock so your crop will be safe from any undesired interference. Supernova is 78 inches tall, 36 inches wide, and with a depth of 24 inches. Considering the size of this grow box, it has ample space to grow up to 16 vegetable or flowering plants.
The Supernova closet employs Kind company's world's best grow light technology. Due to the innovative technology, Supernova consumes 20% less energy and produces 30% more yield. Supernova features magnetic wall paneling for light reflection instead of Myler sheets used by other grow boxes available in the market. This feature is beneficial as we have experienced mold growth behind the Myler sheet in some units.
Supernova comes with the full line of nutrients, a TDs meter, a PH kit, a Superponic grow system, and an Internal digital Hygrometer and Thermometer. Another distinctive feature of Supernova is the provision of net trellis, which guides your crop over the frame for better utilization of grow space in the box. Grow box uses dual carbon filters to clean the air exiting the cabinet, making the unit odorless. Supernova uses food-grade approved material for trays that do not leak off UV gas rays, achieving completely organic crops in your home.
Supernova is an absolute gem for indoor growers and is best for beginners. Considering the lifetime customer support from the manufacturer, 03 years warranty, and super innovative features of the unit Supernova is the best choice if budget is not an issue for you.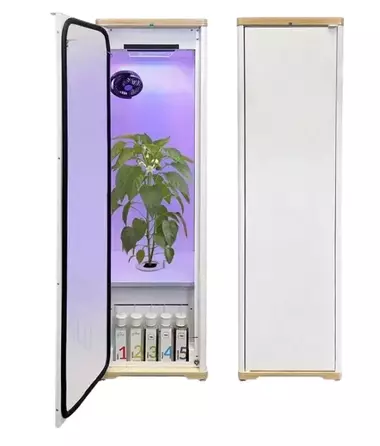 Grobo Grow Box is among the most advanced home growing system ever created. It is a perfect mix of cutting-edge technology, horticultural research, and modern design. This Grow Box is ideal for beginners due to its automatic control and the least requirement of human interference.
Grobo grow box is made of cold-rolled steel and measures 48inches in height, 14inches wide, and 14 inches deep. The unit comes with a lock to keep it safe from any intrusion. Grow box has an internal fan that helps grow healthier and stronger by providing optimum airflow.
Grobo Grow Box provides an easy-to-use system for anyone who wants to grow their plants at home. You can select the plant you intend to grow from over 100 recipes available in the app, and then the unit will take care of its all needs by itself. You have to plant the seeds, fill up the water reservoir, provide nutrients, and let this intelligent machine take care of everything. It continuously monitors and adjusts your plant growing environment to ensure that it has the proper water, lights, temperature, and nutrients it needs to thrive.
Grobo Solid Grow box houses full spectrum 150watt LED lights providing exact colors and intensities needed to make your plants grow faster and healthier. This unit is fitted with a self-activated carbon filter that takes away the smell produced by the crop.
The Grobo Solid Grow box is an excellent selection for new growers because the unit requires minimum intervention. Additionally, the app is beneficial for new growers.
---
Grow Box Guide for Beginner
---
What is a Grow box?
In simple word, grow box is a tool that simplifies your job as an indoor crop grower. Grow box is a container usually made out of steel or wood. Most grow boxes provide everything you need to jump-start the garden, including LED lights and hydroponic systems with built-in environmental monitoring tools.
Grow boxes are a great option if you live in an apartment and don't have space for outdoor gardening or need to grow vegetables during cold, harsh weather. Grow box can provide year-round growing without too much hassle and save money on medicinal herbs.
Advantages of using Grow Box:
There are number of benefits using a grow box for indoor gardening. Some of the vital benefits for using grow boxes are;
Convenience:
With a grow box, you can drastically reduce your time spent on pre-requisites for indoor gardening and focus more on important stuff like plant growth. An endless amount of accessories are available for purchase with the product, and it is easy to find everything cultivating in one space. It takes away all the effort required for planning out our garden searching high-and-low through local hydroponics stores since this is taken care of by a single all in one Grow Box.
Isolated from home:
As Grow Boxes are closed compartments, they are an excellent option to isolate your crop environment from the rest of the home. Grow boxes are designed to be odor-free, and the carbon filter installed in Grow Boxes takes away the pungent smell produced by the weeds. Furthermore, frequent occurrences of pests and diseases can be a problem for herb growers. However, grow boxes help contain these issues, and growers can quickly implement pest management systems in grow boxes to prevent these problems from occurring.
Portability:
Grow boxes are portable, which means you can set up your garden anywhere. Since they're made of metal or wood instead of cloth-made large tents, transportation from one location to another becomes much more manageable. You won't need an extra tent with all the parts if you plan to move the crop since just taking a few steps will get it done.
Disguised:
Grow Boxes are quiet and hidden away to protect your privacy. Most grow boxes resemble either cabinets or closets, which helps them blend into their environment, avoiding undesired attention.
Cannabis and other herbs are valuable commodities and are vulnerable to theft; therefore, it's always safe to keep them a secret. The stealth design of Grow boxes helps in achieving complete secrecy.
Simplicity of Use:
If you are looking to start your garden, then a grow box might be the right choice for you. Grow boxes come with a plug-and-play design with all necessary components built-in, so there's nothing else needed besides finding an outlet nearby.
Growing weeds in grow boxes does not require extensive gardening knowledge, as most of the grow boxes have inbuilt features to control parameters for achieving the best yield. Grow box manufacturing companies like Dealzer and Super Closet have excellent customer care and provide all the details to grow and harvest your crop successfully.
---
Key Aspects to Consider
---
1. Size of Unit:
The size of your grow room is one thing you need to think about before buying a box. You can't just go into any old closet and purchase it. Consider the space where you will place the grow box and decide accordingly.
The second most important consideration is the type and quantity of plants you intend to grow. The grow space inside the compartment shall be ample enough to accommodate and care for your desired crop. Some units come with built-in trellises that are helpful in better utilization of row space.
2. Price:
A grow box does not come cheap. Grow boxes come with tons of accessories, and if you are planning to build your setup, chances are it will cost you more, and the components you purchase might not be optimal for each other. You need to find one that fits all your needs at an affordable price point. If you are buying medicinal herbs from the market or intend to use your grow box from a commercial perspective, high quality grow box will pay back its cost reasonably quickly.
3. Grow Box Accessories:
To find the best box for you, we must look at what each product offers. There are many different types of grow boxes out there, so be sure and compare their features carefully before making your purchase decision.
Grow Boxes come equipped differently depending on who manufactures them. However, they're generally divided into four main categories of Ventilation Systems (airflow), Carbon Filters(takes care of smell), Hydroponic systems (provide nutrients and water), and lighting systems. Please ensure before purchasing; you have thoroughly compared the available options against each other.
4. Additional Features:
All grow boxes are not the same; some feature additional components not offered by another model at a comparable price. One model might come standard with features like fans, lights, and other essentials, while another may include a humidity meter, thermometer, camera for monitoring, TDS meter, and many more. When looking at these boxes from different manufacturers, it's imperative to make sure they are sufficient enough for your needs by including valuable additions to what's already there.
5. Vegetation method and Adjustability:
Please make sure what your plans for the grow box are? Will you use it as a cloning and germination chamber rather than just a production machine? Most of these boxes come with hydroponic systems; what about if you plan to grow in soil. Grow boxes come with different options, so one should consider all plant growing methods before deciding upon the model.
Many grow models are designed to take care of the entire plant cycle, like germination, cloning, and flowering. Such kinds of units are adjustable according to crop phase requirements. Please be aware of this aspect and review your needs before purchasing.
6. Light Proofing:
If you plan for a stealth grow box, it shall be lightproof. Once you receive your new grow box, check for light tightness. To check, turn on the light and make sure there is no outside visible lighting. If you notice considerable light leaking from the box, return it for replacement before setting everything else into motion.
7. Quiet Operation:
If you want to keep your grow quiet and avoid unwanted attention, ensure the ventilation and hydroponic systems aren't too noisy. The best boxes have super-quiet fans and pumps or no sound at all.
---
What is hydroponic gardening?
---
Hydroponics is a powerful tool for sustainable gardening. It comes from ancient Greek origins and means "water labor" because, in this system, water does all of the work while enabling fast growth to take place without soil being used. Plants are grown in an organic medium instead of soil. Support to the root system is provided by this organic method. The most commonly used organic mediums are coco coir, rock wool, peat moss, and vermiculite.
In traditional soil growth techniques, plants roots absorb water and nutrients from the soil. However, plant roots are dipped into the water and nutrients solution in the hydroponic system. They'll be able to absorb all of those nutrients directly from water, thus eliminating the soil requirement.
Soil vs. Hydroponics:
People who grow plants indoors often use soil as the medium they're grown. There's something about growing up close and personal with nature that many find appealing, but growing in the soil becomes a tedious job over time. Moreover, some would prefer not to get their hands dirty. To have a hassle-free experience without worrying about overdoing it on work (or dirt), people tend to shift towards unconventional vegetation methods like hydroponics.
Advantages of Hydroponic system:
Disadvantages of Hydroponic System:
---
Conclusion
---
The reviews are in, and we've found the best grow box for beginners. With such a variety of products, it's easy to get your hands on one that will fit what you need – at an affordable price. Grow boxes are a great way to get your hands on some plants without having the space for them. With these, you can easily grow and maintain your preferred greens. Now here's the opportunity, get yourself one today and have happy planting.
---
Frequently Asked Questions
---
If you intend to buy a grow box for the first time, the following are the few questions that might interest you as these questions came to my mind when I purchased my first grow box.
Do grow boxes really work?
Yes, grow boxes effectively provide higher and faster yields for the same number of plants grown outdoors. Most of the grow boxes are based on the proven technology of hydroponic vegetation providing controlled nutrients to plants. Furthermore, plant light exposure can be regulated according to plant requirements, and these customizable options help achieve higher production results.
Can you plant seeds in a grow box?
Seeds require light and water to germinate, and both can be easily provided in grow boxes. Many grow boxes come with plant starter kits that contain trays for germination and early plant life. So, yes, you can plant seeds in a grow box and start your crop from scratch.
How do you make a smell proof grow box?
Grow box can be made odor-free by employing in different ways. While building your grow box, you can use an absorbent gel in the exhaust port of the box, installation of activated carbon filter to remove the smell, effective sealing, and ventilation.
Does more light mean more yield?
Yes, the higher light intensity can contribute to higher productions (upto a level). Two factors are vital for light requirements in grow box. Light spectrum and intensity; the light spectrum is essential for seeds germination and flowering, whereas higher light intensity can result in higher yields. Please be informed that you are also taking care of other contributors like humidity, temperature, CO2, water, and nutrients.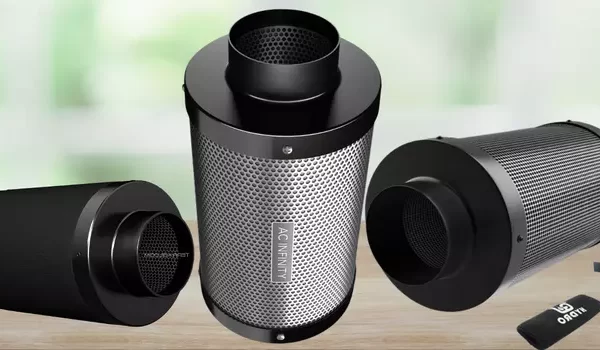 Once you set up your grow room or tent and start cultivating some plants and weeds, you will begin sensing some sharp pungent smells around your household. Indoor plant cultivation, including cannabis, requires the use of fertilizers, nutrients, and pesticides,…