Controlled environment hydroponics systems can achieve higher yields all around the year. Grow tent is a primary component of an efficient and fruitful grow setup. However, with so many brands and options available in the market, one becomes confused in the selection. The best grow tent should be sturdy and durable so that you can enjoy the high production of your favorite crop year after year. Other than durability grow tent shall be lightproof, with well-designed ventilation ports for proper airflow, and shall offer beneficial features like a spill-proof tray, tool bag and viewing windows.
Our team of home growers like you has been using different grow tents around the years. Furthermore, we have done close inspections and critical reviews of popular brands to provide you with the right inputs to make it simple to select a best grow tent matching your needs. Our detailed review section and buying guides makes selection of a grow tent simple and hassle-free.
Best Grow Tent 2022
We have provided our top recommendations in our quick selection table. However jump to detailed reviews and buying guide if you intend to know more about a specific product or grow tents in general.
Vivosun– Best Value Grow Tent
Excellent rip resistance canvas, metallic poles along with metallic corner pieces. Great price for construction quality.
CoolGrows– Best Low Priced Grow Tent
600D thick canvas, all metallic construction with good load bearing capability. Best quality among the cheap grow tent brands.
AC infinity– Top Rated Grow Tent
2000D thick waterproof canvas (thickest of all available grow tents), very sturdy and durable construction.
Galaxy– Best Quality Grow Tent
1680D thick canvas, made of 25mm steel poles with highest load capability for grow tent equipment. Top-notch quality.
Vivosun is a leading grow tent company offering quality tents that are efficient and easier to assemble. The company manufactures tents in various sizes, and their 4 x 4 tent offers the best value for money.
Grow tents from Vivosun are made of sturdy and durable 600D thick canvas, resistant to mold, mildew, and pests. Steel-made poles and connectors add further strength to the tent. Considering the quality construction materials used by Vivosun, grow tent will serve you for years.
The tent is internally lined with a Diamond Mylar sheet and reflects up to 98% of light very effectively and efficiently. The zippers are thick and high quality, so they will last for years. Our team noticed how well the tent sealed the light during the testing of the tent. Vivosun Grow tent provides extra sealing at ports using a double-layer ventilation opening.
The tent also features a removable floor tray which allows you to keep the space at the bottom clear or use it to store items like your growing supplies or other gardening equipment. A mesh pouch is also provided in the tent, which will serve you as a tool pouch and makes it simple to organize the tools in the tent.
Vivosun offers good quality at a great price. So, if you are searching for a sturdy grow tent with all the cool features but not heavy on the pocket, Vivosun is the right choice for you.
Topolite– Budget Growing Tent
Topolite grow tents are budget tents with many excellent features that make them great for a newbie. They come in various sizes, so they can be used to accommodate a wide range of budgets and needs.
The tent is constructed from 600D Oxford cloth, an amazing factor in this price range. It also has a reflective interior made of Mylar sheets that helps to maximize light reflection and distribution. The poles are made of metal; however, corners are made of plastic which is a big minus.
The Toplight Grow Tent also comes with handy features that make it easy to use. For example, the tent also has a spill collection tray and an observation window. However, zipper quality can be improved. While opening and closing, we observed that zippers were stalling, and we had to reverse the zipper on several locations to get past the bad spot.
Topolite Grow tents are easy to set up without requiring any special tool. Topolite price and easy use feature make them best suited for beginners; however, for a long-term gardening project and experienced users, better options are available in the market.
CoolGrows – Good Indoor Grow Tent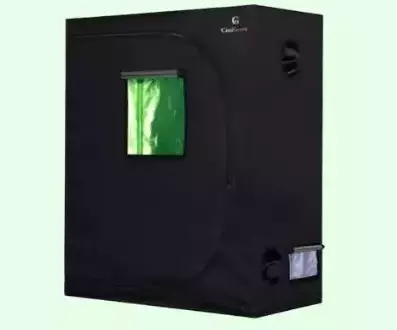 It's a jungle out there when you're shopping for grow tents, and it can be hard to find the perfect one. Let us explain the features that make CoolGrow Grow Tents unique and how they stack up against other models on the market today.
CoolGrows tents are made with high-quality materials that are designed to last. They have intensively concentrated on durability by using heavy-duty zippers, 600D thick fabric, and quality double stitching. All poles are made of durable steel, and CoolGrows has used metal connectors for corners instead of plastic 3-pong connectors. You can imagine the strength of this tent structure as each hanging bar can hold wait up to 110 lbs.
These tents offer a variety of advantages, including enhanced light reflection using a highly reflective Mylar Sheet and dual ventilation socks for improved air circulation. Grow tent is provided with a floor tray, which can be removed if intended. Although the door unzips very smoothly, the tent is provided with an observation window so that you can observe the crop without opening the door.
Overall, the CoolGrows Grow Tents are a great option for anyone looking for an affordable and reliable grow tent. It isn't easy to find any other comparable quality grow tent at this price.
IPower– Small Grow Tent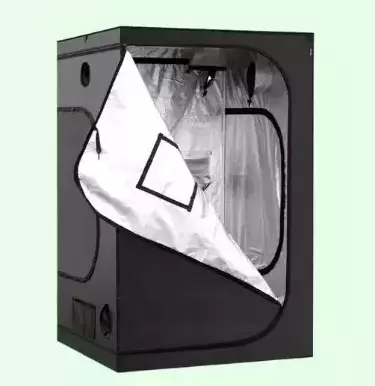 Ipower grow tents are a great option for beginners as they are affordable and have various features. They may not be the most durable option available; however, they offer excellent value to money. So, if you're in the market for a new grow tent, be sure to check out the options from Ipower.
Ipower grow tents are available in several sizes, the largest being a 5 x 5 ft tent at a very impressive price. Ipower grow tents are made of 3-ply vinyl material having a thickness of 5mm. During the tent inspection, we noticed the canvas looked very strong and sturdy.
Poles and corner pieces are of metal construction with an impressive load-bearing capacity of 110lb. However, be careful while loading the tent structure as the load-bearing capacity mentioned is near the intersections, not in the mid-span of hanging bars. Therefore, keep this point in mind while installing ventilation fans, filters, and lighting in your tent.
Ipower grow tents have inside lining installed at zippers to avoid light leakage. However, we noticed slight light leakage from zipper stitching. Grow tent has some other cool features like a tool bag, a water-resistant spill tray, and a wide observation window sealed by using transparent plastic.
In summation, Ipower provides quality grow tents at an affordable price as they serve well and meet the requirements of a new gardener.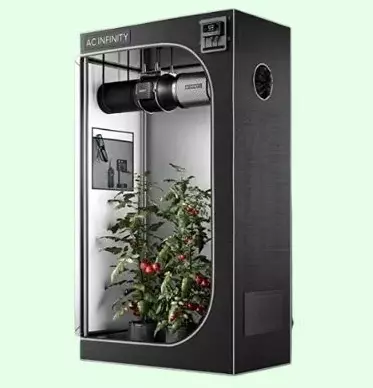 The AC Infinity Cloudlab series tents are some of the best tents on the market. They are a top-notch option made with high-quality materials and include the best construction features. These tents also have helpful extras like built-in storage pockets and viewing windows.
Cloudlab series tents are made of 2000D waterproof Oxford canvas, the thickest of all tents available. The thick canvas of grow tent makes it extra durable and rip-resistant and reduces the light coming out of the canvas, making it more efficient. The tent also features a lightproof layer between the outer canvas and inner mylar sheet to make the tent completely lightproof.
Frame and corner pieces are made of steel and are polished to protect them from corrosion and long-term deterioration. The structure can hold up to 150lb of equipment weight when hung at intersection points.
Ac infinity tents have robust zippers which are internally lined to prevent light leakage. The tent is internally lined with a diamond Mylar sheet which is cross patterned to maximize the light reflection. The tent has several ports for ventilation with double cinches for better sealing.
The tent comes with a tool pocket, water-resistant spill collect tray, and observation window. Cloudlab series boasts an added feature of an aluminum plate installed outside the tent where you can install a controller or monitor for your grow tent.
The only downside to these tents is that they are a bit more expensive than other options on the market. But, we believe that the high quality and durable nature of these tents makes them well worth the investment. If you are looking for a grow tent like grow cabinets that will meet all of your needs year after year, we highly recommend choosing an AC Infinity Grow Cloudlab series tent.
If you are looking for a more affordable option, the Greenhouser Grow Tent is a great choice. These tents are made with normal quality materials and construction features.
Greenhouser tents are made of 600D Oxford canvas, a commonly used grade in grow tents. The tent frame is constructed of 16mm diameter poles with corners made of sturdy plastic, which we believe should have been of steel construction.
Tents from Greenhouser also include helpful extras like built-in storage pockets and viewing windows. The downside to these tents is that they are not quite as durable as some of the other options on the market. But, overall, they are a great value for the price. If you are looking for an affordable grow tent that will meet your needs, the Greenhouser Grow Tent is a great option.
Inside the tent, there is a layer of waterproof diamond Mylar sheet which can reflect up to 96% of light. In addition, a mid-layer of PEVA material has been provided to improve the light proofing of the tent. The tent comes with a removable floor to facilitate cleaning, and the tent features rectangular vents for improved ventilation.
Greenhouser tents offer some good features, but the build quality is not extra sturdy. However, considering the price, which is among the lowest in the market, the Greenhouser tent can be a choice for those who intend to keep their budget in check.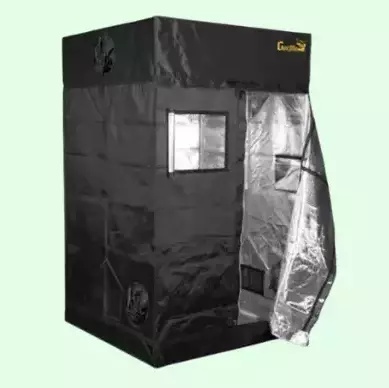 Gorilla brand has been popular over the years for building durable grow tents. They are 03 lines of Gorilla Tents, standard, shorty, and light. We recommend standard and shorty category uses low-density fabric and is not recommended from value to money viewpoint. The difference between shorty and the standard line is only height; shorty is shorter. You can prefer to have a shorty if you have a vertical spacing issue.

Gorilla tents come with distinctive feature of 1-foot inclusive extension kit and 2 feet optional extension kit for those who need more vertical space. Gorilla Standard tents are made from tough 1680D material, lined with a custom diamond reflective lining.
Zippers installed are industrial-type and sturdy. Tents are all-steel construction so that Gorilla grow tents can withstand the stress and provide you with a hassle-free experience of growing.
Gorilla Grow Tent features a top layer insertion for blocking infrared rays, which helps control the grow tent temperature during hot summers. It contains an easily assessable tool bag, a spill collection bottom pool, and a filter mesh at the inlet port to prevent pests entry into the tent.
Owing to the durability, sturdiness, and additional features Gorilla Grow Tent Original line is a premium choice if you want to purchase a quality, efficient and long-lasting product. The only downside here is the cost which is quite high compared to other brands.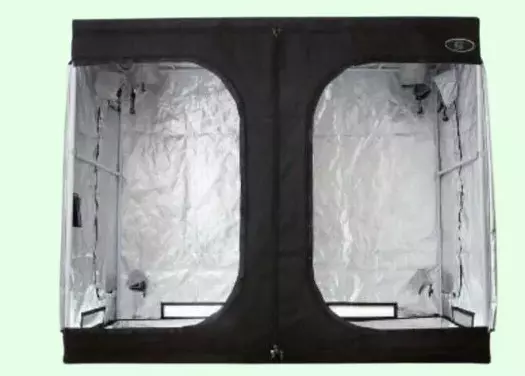 Galaxy Grow Tents is the only brand in its class to offer such a high-quality tent. It's made from thick, durable material that can withstand heavy equipment use without tearing or cracking. Galaxy is the brand to consider if you are looking for the best quality.
The tents are made of 1680D thickness canvas, whereas the 25mm poles and reinforced corners are made from ultra-strong steel. These durable materials can withstand 300 pounds which is unprecedented in any other grow tent. These grow tents have sturdy zippers with light guard flaps that last you years.
Galaxy grow tents are designed with ventilation ports at the bottom and installed with mesh screens so pests can't get inside. The viewing windows are made from heavy-duty poly material and are completely sealable. A heavy-duty toolbox provides the tents to help you organize all necessary tools within the tent. It also features easy to clean spill tray and side access ports.
As we have explained, Galaxy grow tents are one of the most durable and sturdy tents available. The price of these tents is still very attractive considering the highest quality materials used for their construction. Galaxy grow tent is one of our top recommendations for quality and long-lasting grow tent.
---
Grow Tents Guide
---
Why should you buy a grow tent?
Vegetables and herbs flourish and thrive at most in a controlled environment. However, setting up a grow room can be an expensive business. Grow tents are most beneficial in such scenarios. These tents are portable structures designed to cultivate plants in an enclosed space. It is simpler and less costly to set up your hydroponic garden in your grow tent and start producing fresh vegetables and medicinal herbs. They are cheap enough that even someone without much experience could purchase one as long as there's room inside or outside your house.
---
Benefits of using Grow Tents
---
Grow tents are far less expensive as compared to grow boxes, however, cost is not the only benefit that comes with grow tents. There is more to grow tents other than price, and we'll explain to you here why you should go for a grow tent.
Growing indoors is often the norm, but conditions outside are never ideal for your crop all around the year. To grow plants in a tent is the best way to ensure they get all of their needs met and thrive. With an adjustable light cycle, environmental controls you can regulate, grow tents fulfill the plant's entire life cycle requirements.
Space – Savers:
Grow tents are a great option for those without enough space to grow their plants. All you need is a small space indoors and purchase a grow tent according to available space. Be sure to select a space in your home where you can direct ventilation and exhaust ports to outside. You will be able to set up a productive grow tent in no time; make sure to select grow tent equipment compatible with grow tent and plants you intend to grow..
Simple and easy to Setup:
The grow tents provide the most cost-effective option for growing indoors. When you're a renter, converting a room into an expensive grow room can be costly and time-consuming, not to mention that renters often need permission from their landlords before making any changes in apartment living spaces. You won't have all those worries with the grow tent as it comes as a self-sustainable unit without requiring big changes in your home.
Portable and Transportable:
Grow Boxes are quiet and hidden away to protect your privacy. Most grow boxes or Grow tents are an excellent way to have your mobile grow room, whether you're moving from one place or finding the perfect spot for growing at home. With setup and breakdown being easier than with whole rooms, these can easily be moved around so that no matter where they end up in their final location..
Safety for Plants and Home:
If you are looking to start your garden, then a grow box might be the right choice for you. Grow boxes come with a plug-and-play design with all necessary components built-in, so there's nothing else needed besides finding an outlet nearby.
Growing weeds in grow boxes does not require extensive gardening knowledge, as most of the grow boxes have inbuilt features to control parameters for achieving the best yield. Grow box manufacturing companies like Dealzer and Super Closet have excellent customer care and provide all the details to grow and harvest your crop successfully.
---
What should be the size of my Grow Tent?
---
By now, you must be looking to grow your plants in a tent, but there are so many options available from sizing perspective. We have divided the options into four categories from size view point for every variety of gardeners.
Small Grow Tents:
Grow tents having a maximum size up to 2 X 4 feet fall into this category.
If you're looking to start your garden as a beginner, these tents are a perfect size. They can easily accommodate one or two plants and provide them with enough space so they won't feel cramped but still have all their needs met.
They are ideal for growing clones and seedlings. If you want a smaller setup, this size tent is the option. Below is the best recommendation for a small grow tent based on the experience of our knowledgeable and skilled team.
Medium Grow tents:
Grow tents ranging between 4 X 4 to 5 x 5 feet fall into this category.
Medium Grow Tents are portable grow tents that support up to 5 mature plants and provide novice growers with good yields.
Seasoned users can also use medium grow tents, as the plenty of room inside allows for greater production yields.
Below is one of the best medium grow tent available on the market.
Large Grow Tents:
Grow tents bigger than 30 sq. ft belong to the large grow tent category.
You can house up to 8 mature plants, which will result in 50-100% larger harvests than if you were working with a smaller tent. With 30 – 36 sq. ft of coverage area per tent (depending on model), these grow houses have plenty of room inside them; however, you have to use more than one high-powered bulb to meet the plants' requirement and control the humidity and temperature effectively.
---
Important Factors for Selection
---
1. Heat Resistant Construction Material:
The heat can be intense in a grow tent; after all, you're dealing with hot lights that are hanging in an enclosed space. Furthermore, lights are hanging around, and other electrical parts near water could cause an undesired accident. Therefore, your Grow Tent construction material must be capable of withstanding the heat inside the grow tent.
2. Fabric Thickness and Rip Strength:
The most critical factor in a tent's durability is how dense the fabric itself is. A standard measure for this would be a denier, representing the mass in grams per 9000 meters of fiber. The higher number translates into more robust fabrics capable of withstanding more wear & tear over time without tearing apart.
Grow tents come in various fabrics, and each has its pros. The usual density of grow tent fabric varies from 120D – 600D, whereas the most robust tent fabrics, have a density of 1680D or higher. It's essential to buy strong materials that will keep noise or smell inside and isolate your crop from the outside world's pests and diseases.
3. Quality Reflective Lining:
Grow tents offer a great way to get the most out of your indoor grow lights by ensuring that you are reflecting them. The best reflective materials have near 100% reflectivity, and some top brands even offer different patterns such as diamond-shaped mylar for high-quality reflection.
The use of quality reflective sheets enables plants with extra light. It helps make sure they receive an ample amount throughout all day long, making vegetation look healthier than ever before.
4. Grow Tent Sealing:
What makes a great grow tent? It's not just about how many windows it has or what size its internal area is, though those are important considerations. The best ones are entirely light-tight, meaning that there should be no light coming out of the grow tent so that the plants get all the essential light. Manufacturers employ different techniques like flaps or zip draws at the potential leakage points, so look for these features when selecting the grow tent.
5. Corner Construction:
The best tents use metal corner pieces to securely hold up framing poles and prevent them from wiggling when in motion. Top-of-the-line grow houses have an extra-durable design that uses snap joints, ensuring stability so you can focus on your plant growth. Common brands use plastic in corner pieces that are not as durable as steel ones.
6. Zipper Quality:
The zippers on your tent are like the canaries of camping; they're used every single day, and if their quality isn't up-to-par with what you need, then failure will only be minutes away.
Zipper wear depends largely upon how often it is opened and the placement of the zipper. Many brands have inspection windows and look through options that reduce the frequency of zipper usage. It also depends on how the zipper is placed in grow tent. If zipping and unzipping are difficult due to design, you have a more chance of zipper failure while handling it.
7. Frame and Pole Strength:
When choosing the right tent for your needs, a few things should be considered. The poles, of course, determine how high or low you can grow and what size space they'll provide. Still, it's also essential to take note of whether these tents come with height-adjustable metal supports as well, so an extra set could potentially help accommodate taller plants. Moreover, the polls are made of different materials like steel and plastic; obviously, more durable steel should be preferred. The polls locked in by snapping are the last longing compared to rotation, which can degrade over time.
8. Number of Ventilation, Exhaust, and Cord Ports:
When growing plants in a tent, it's crucial to think about the exhaust and ventilation ports, so the hot air doesn't build up. Many tents only have one or two flaps that can be lifted as needed for relief from excessive temperatures and humidity inside your grow area. Cord ports are usually small; however, a well-oriented port for a cord makes it simple to connect tent equipment.
9. Flood Tray:
You don't want to set up your grow tent without a Flood Tray. This handy little device will help keep your tent dry in case of spills or during any unexpected moment when everything goes wrong. They are also perfect for providing a little storage space near your vegetation.
10. Viewing Windows:
Viewing windows is excellent to check on your garden's progress without disrupting its natural environment. They're usually secured tightly with Velcro, so they don't leak when not in use. They also provide extra visibility for monitoring when using additives like CO2 in your grow tent.
11. Tool Pouch:
The tool pouch is a lifesaver! I can't tell you how many times my meter got lost in the garden. If anything goes wrong with any of my equipment, it's nice to know that there will always be an easy access point right inside our tent. Therefore, for whatever needs fixing or replacing in grow tent, you can have your tools and all accessories right there without having to go far.
12. Net Trellis:
Net trellises are an added benefit for you. They can help you create the perfect canopy if your plants require support. Furthermore, this feature is hugely beneficial if you plan to grow tall plants. To accommodate taller plants, you can stress train the plants, guide and spread their branches and shoots over the trellis, thus utilizing more grow space.
---
Conclusion
---
We expect that we have been able to provide you with complete information to select the best grow tent for you. If you are looking for a high-quality grow tent and have a tight budget, AC Infinity is the best choice for you. The readers who are more considerate of the budget shall opt for Vivosun; if you do not want to compromise on quality, Galaxy is the premium option for providing the highest quality grow tents.
---
Frequently Asked Questions
---
Below are some of the questions that came to my mind when I was looking for my first grow tent. If you plan to start vegetation in a grow tent, you will find the answers relevant and helpful.
Are indoor grow tents worth it?
Yes, definitely, for some people, it may seem to be an additional cost. However, if you are interested in growing your vegetables all-around year or want to save the amount spent on medicinal herbs, a productive grow tent system will be very beneficial and cost-saving over the longer run.
How many plants 2×2 grow tent can accommodate?
It depends on your vegetation method and plant species preference. However, if you are considering cannabis or other medicinal herbs, a 2×2 grow tent can accommodate a maximum of up to 02 plants. More effective space utilization can be achieved by frequent pruning and stress training your plants.
Do grow tents increase yield?
Higher yields can be achieved in grow tents using a hydroponic system. Production rates will be higher due to the controlled climate optimum for crop growth. Grow tents are made efficient by providing sound light proofing, optimum ventilation, and eliminating hot spots. A grow tent system designed to take care of all these essential factors will result in higher yields.
Should I open vents in grow tent?
Although leaking light from grow tent reduces the efficiency of the system. However, you can keep the vents open from time to time to cater to the high heat produced in the grow tent. Mainly if you gave vent opening at the bottom of your tent and keep them open, it will not have a drastic effect on grow light utilization.
Should I run my exhaust fan 24/7 In my grow tent?
It is advisable to keep the fans running during the light period to remove the lights' heat. Monitor the temperature in the tent and adjust the running hours of fans during dark periods. Availability of abundance of dry air and CO2 is essential during the flowering period of plants.